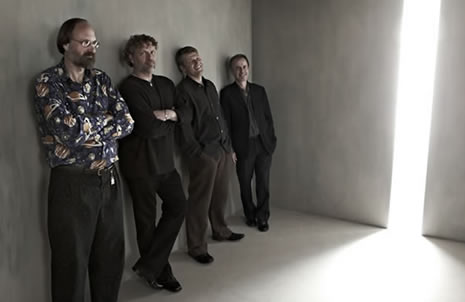 Scott Robinson, Tim Horner, Martin Wind and Bill Cunliffe
Martin Wind Quartet
Martin Wind (bass, compositions)
Scott Robinson (tenor sax and trumpet)
Bill Cunliffe (piano)
Tim Horner (drums)
Press Material | Pressetext (German Version)


In 2007 Martin Wind founded his quartet featuring Scott Robinson on tenor saxophone, bass clarinet, echo cornet (and whatever else he can find in his garage), Bill Cunliffe on piano and Tim Horner on drums.
Other MWQ alumni include pianists Jim McNeely, Frank Kimbrough, Jim Ridl and Bill Mays; saxophonist Joel Frahm: and drummers Matt Wilson and Greg Hutchinson. Two years and a few trips to Europe later the Martin Wind Quartet has become one of the most organic and dynamic formations on the scene.

Booking information for Martin Wind Quartet:    Phone 201 836-0024
---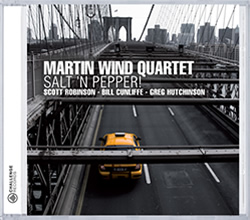 Salt N' Pepper
Challenge Records
for more info go to recordings
CD "Salt 'N Pepper"
Challenge Records

In 2008 the group's first CD "Salt 'n Pepper!" was released on the Dutch Challenge Records Label - see reviews.
Judith Schlesinger on Salt 'n Pepper:
In the liner notes to "Salt 'N Pepper!", Matt Wilson describes the quartet as "sonic chefs" who blend basic condiments and flavors into "an extraordinary menu." Stretching the culinary metaphor a little further, it can be said that this varied buffet of fresh and favorite melodies, rendered so wonderfully by this stellar group of musicians, is nothing less than delicious.
Listen to "The Dream" - Martin Wind Quartet: Salt 'N Pepper

---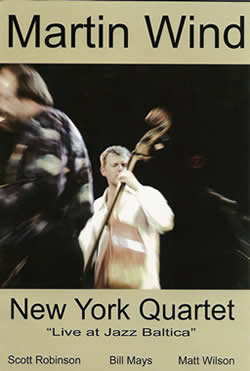 DVD "Live at Jazz Baltica"
In the spring of 2010 the release of their first DVD "Live at JazzBaltica" of a concert in July of 2008 was celebrated at the groups "home base", The Kitano in New York City.
Credits
Martin Wind: bass, compositions
Scott Robinson: tenor sax, bass clarinet, valve cornet
Bill Mays: piano
Matt Wilson: drums
Recorded and Mixed by Friedrich Thein for 3Sat/ZDF on July 4, 2008 
Liner Notes: Rainer Haarmann
Photos: Olff Appold
DVD Editing: Ku Il Oh
Produced by Martin Wind.
1. Gone with the Wind (Wrubel/Magidson)
2. The Dream (Wind)
3. Remember October 13th (Wind)
4. Turn out the Stars (Evans)
5. Tale of the Fingers (Chambers)
6. Nuages (Reinhard)
7. Get it? (Wind)
8. Interview with Alan Banks
For more info go to recordings
---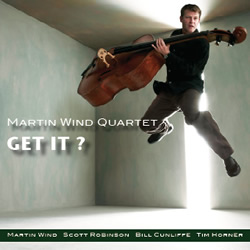 CD "Get It?"

On their last European tour in the fall of 2009 the MWQ recorded new material, which will be released on June 4, 2010 on the German "Laika Records" Label. Named after a Martin Wind original dedicated to James Brown the new album will be called "Get it!"....
The album received great reviews, was "Album of the week" at the North German Radio (NDR) and was nominated for best album of the year by the German Record Awards (Deutsche Schallplatten Kritik). For more information or to purchase please go to Recordings or visit Laika Records at laika-records.com.
Listen to "Get It? " - Martin Wind Quartet