Meyer & Wind Live - May 2012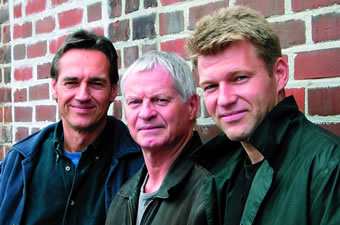 Ulf Meyer, Alex Riel (Drums), Martin Wind
Booking information for Ulf Meyer / Martin Wind
Phone 201 836-0024
Purchase recordings
featuring Ulf Meyer and Martin Wind
Ulf Meyer & Martin Wind
Ulf Meyer - Guitar
Martin Wind - Bass

Ulf Meyer and Martin have been playing together for more than 15 years and have just released their fifth album "Feels Like Home".
Both were born and grew up in Germany's most northern city Flensburg, which is located on the tip of a beautiful fjord from the Baltic Sea only a couple of miles from the Danish border.
In 1991 they played their first duo concert when they filled in for the opening night of the new performance space called the "Orpheus Theatre".
While working on their repertoire they realized, that they were very much influenced by the style and approach by the great European Guitar and Bass Duo work of Belgium guitarist Philippe Catherine and Danish Bassist Nils Henning Orsted Pedersen.
Ulf and Martin really enjoyed their relaxed and humorous way of playing standard from the American Songbook as well as folk songs and even lullabies.
In 1992 they recorded their first album together called "The Baltic", which featured moody original compositions like "The Baltic" and "Roedby Havn", Standards such as "The autumn leaves" and "My Romance" and even a Calypso version of the theme song of the popular movies of Astrid Lindgren's children book series "Pippi Longstockings".
Their next recording featured Fluegelhornist Jan Peter Kloepfel in another collection of Originals and Standards called "Fjordsongs" (1997).
In 2000 they celebrated the 10 anniversary of their "home stage", the Orpheus Theater with the release of their first Live Recording…"Meyer & Wind Live".
In 2002 Ulf and Martin asked Danish drum legend Alex Riel to join them for an open air concert as part of the annual "Historic Yard Festival" in Flensburg. The fit was perfect and in 2002 they recorded their first trio recording which was called "Kinnings". Since that time the trio has been performing extensively in Denmark and the northern part of Germany and was joined by Danish saxophonist Benjamin Koeppel on their latest release "Feels like Home" (2006). This album is dedicated to the memory of the great Danis bassist Nils Henning Oersted Pedersen, who had a big impact on the group's member's lives and who passed away shortly after the recording of this last album.
2012 marked a return for the duo to the Orpheus Theater in Flensburg, celebrating with their second live recording "Ulf Meyer & Martin Wind at Orpheus Theater - Live - May 2012 " - from Laika Records.
Recordings / Video

Watch Ulf Meyer and Martin Wind perform "Little Anna" on YouTube